Becoming a business owner requires overwhelming determination, time, and effort. The biggest challenge that most entrepreneurs face is how to promote their new venture.
Selling the business's products or services is a universal goal of every small business. If you want sales, then you need to position your business in front of your ideal customers, and then offer them something that addresses their pain points or that they can't get anywhere else.
The steps that you take to promote your new venture can set its foundation for success or failure. To start a successful business, you need to follow the right steps. Let's delve into the seven steps to market your new business:
1. Conduct a Market Research
Conducting market research is an essential part of developing a successful marketing strategy. This step involves collecting information that can offer insight into your customers' buying patterns, thinking, and location. Also, market research can help you monitor your competition, the market trends, undertake a sales forecast.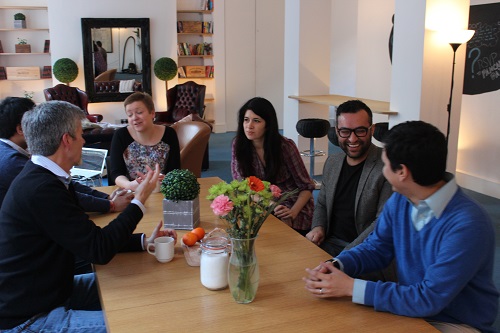 2. Create a Business Plan
Every new business needs to have a business plan to make their venture a reality. A business plan helps guide your business from the initial start-up phase to its establishment and subsequent growth.
A traditional business plan is a must-have if you intend to seek any financial support. However, if you don't plan to ask for financial assistance, you can just have a simple business plan that will guide you on your goals and how to achieve them.
One crucial element of every business plan is a marketing plan. Developing a marketing plan for your business idea can offer you a competitive edge over your rivals.
If you want to be successful in your business, then you must plan how you will get to your target market and overdo the competition. Also, you must be able to identify your unique selling proposition. A marketing plan should outline how you will reach your target audience by implementing your marketing strategy effectively. Also, it should outline your marketing goals and objectives. Your marketing goals help define the objectives that you want to achieve. You need to have a SMART goal, which is an abbreviation for specific, measurable, attainable, relevant, and time-based.
3. Find your Unique Selling Proposition
Finding a unique selling proposition is vital for any business. A USP is the sole reason why you stand out from others or why your clients buy from you and not from your competitors. You need to identify what you can do differently and convey it to your prospects. This can include your unique skills and knowledge.
Also, it may include having a new offering or offering unique services. It includes finding out how your customers benefit by buying your products or services or the unique aspects of your business that you talk about when talking about your venture to strangers.
If you identify your unique selling point, then you can create relevant marketing campaigns that will help you save on cost and effort.
4. Profile your Target Market and Niche
Marketing your services or products to everyone is costly and ineffective. You need to group or segment your prospective clients based on specific characteristics. This will help you focus on your marketing efforts better.
The market that you target should have a need for your services or products and must be willing to buy what you are offering them. You can segment your market based on factors such as:
Demographics – age, education level, gender, occupation, income,

Geography – location

Behavior – readiness to buy, attitude, usage rates, and loyalty

Lifestyle – social class, personal values, personality.

And more
5. Select your Marketing Avenues
When picking the right marketing strategy to use, you need to consider your business goals and target audience. You can reach different prospects using different marketing avenues. Some of these options are email marketing, social media marketing, networking events, flyers and brochures, internet marketing, contests and coupons, and more.
For example, in email marketing, you can create an email opt-in on your blog or website and offer a gift or a free download that your visitors will be willing to subscribe to your email list for. You can also find other sneaky ways to get prospects' email addresses. 
Once you have the email addresses, then you can send regular emails to them promoting and educating the subscribers more about your products or services. You can use Gmail automation tool to send the emails even when you away. Leverage on different email tactics that will make your email promotions a success. For example, you can increase open rates by email personalization. Also, you can add audio, video, and social sharing functionality to your emails.
6. Nurture your Loyal Customers
If you want your business to grow exponentially, then you must look after your customers to encourage their loyalty. If you offer exceptional customer service, then you'll be able to keep clients coming back for more. This will help you get a competitive advantage over your competitors. Some of the best strategies to nurture your existing customers include giving an after-sale service, communicating with customers regularly, and keeping your word and more.
7. Monitor and Review
Monitoring your marketing activities regularly can help you know whether you are achieving your desired outcome, such as an increase in sales. Review your marketing plan after some time to understand what is working and what's not. Also, you can review and assess your website and social media campaigns using different analytic tools to know if it's working or not. You can reinvent your business or work on improving on what is not working.
Photo credits: coworkinglondon.com