Team building! What does it conjure up for you? For a lot of people that term will bring up images of a wet weekend somewhere trying to build a raft out of barrels coupled with some awkward role playing sales session. Now, this may be heaven for a few people but generally it certainly falls into the "hell" category for a lot. Not everyone likes outdoor activities, not everyone learns from role play so it was often not a great success. But thankfully, things have changed and team building is now becoming something viewed in a much more positive way by staff and business owners, but what has changed?
The Past
As previously mentioned, team building may well have had a bit of a bad name for some people. Back in the day of Gordon Brittas it was really only fun for about 20% of any team that went. The idea of inclusivity, workplace equality and generally being nicer was still in its infancy if that. So quite often it was a bit of a macho thing and people who's strengths were not that way inclined often suffered. Of course, some people really loved it and some people came out of their shells, made new team member friends and more but it was a bit hit and miss and that doesn't make for a good ROI for any business.
Stags and Hens?
The massive shift in the types of activities available for team building is in no small part thanks to the stag and hen market. Just like team building a stag or hen do was pretty formulaic in the 80s and 90s and there really wasn't much choice of what to do. But as demand for more fun, longer stag and hen dos and more activity based events companies starting providing them. What was once about a single night getting drunk and being tied to a lamp post turned into a day of go karting or rock climbing before heading to a big rented house for drinks. The diversity of activity just kept coming and a massive industry sprung up that is still flourishing. So all of a sudden there was a huge range of amazing activities any groups could sign up for and this fed perfectly into the world of team building….thankfully!
What to Do?
There is such a huge range of choices out there so it is often best to look for companies work with providers and can offer a massive choice on one website like this https://www.fizzbox.com/team-building You can also just hit Google and start looking for escape rooms or school sports days r maybe even Quidditch but they can be hard work and quite time consuming.
Inside or Outside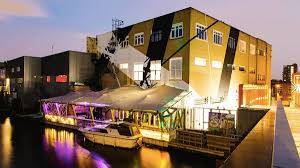 Let's face it, some people are just not cut out for hiking in the rain or coasteering, but others are. For some a surf lessons is a god send and for some it is a nightmare. It is this difference that has often lead more traditional team building days to fail but now there is such a massive amount of choice business owners really are able to try to please everyone. Some businesses choose to do combination events with a bit of both, others offer 2 events in a year to chose from or just as a reciprocal option. Someone who doesn't like the outdoors is far more likely to make an effort if they know that later in the year there is another team building day that is more to their tastes.
Buy In
Anyone in business knows "buy in" is critical. Be it a sales pitch, a training day or trying to get investment from the MD without buy in from the person you are pitching an idea to you get nothing back. Yes, some people will come along and give it a go but without real buy in they wont benefit and nor will the business. In order to get buy in you need to offer something they like or can be convinced is good for them. This is where the ever growing choice in team building activities comes in.  Businesses can now find something suited to their team, they can put a few options to a vote, split teams for different choices and more. By doing this the staff going on the activity will be happier about it, will buy in and will benefit more from it. Seems like a far cry from a soaking wet team where 80% look miserable.
Tailored to the team
Because of the choice and types of team building available now businesses can also tailor things to the team and the staff. In some teams there are people with children where an enforced work weekend away could cause chaos and a lot of worry trying to organise cover. The same can be said for people with kids who are asked to arrive home much later than normal. But there will also be team members who may feel uncomfortable about certain activities like going on a boat for example. Once again this new wave of choice in team building means all of these things can be taken into account and given the respect they need when choosing something to do and that is a good thing.
The take home here is that team building is no longer something to cringe over, it can be a massively positive thing to do for a business because there is now a team building day for everyone out there!
Photo credits: Coworking London