It's a well-known thought that 'Feedback requires vulnerability'. If we start looking at things from this perspective it changes the whole outlook on feedback culture. Vulnerability is required in order to give and receive feedback and to create a safe environment for a feedback culture. Both parties involved must be open and exposed to engaging in a conversation that might not be comfortable but will lead to mutual improvement in the end.  Feedback removes the illusion of 'being perfect' and simply 'assuming how we're doing' and allows us to create a more objective picture of where we're at.
Nurturing a culture of feedback is a topic that is talked about more and more in the corporate world because it is seen as a great tool to make your business thrive and create a strongly connected working team. 
Employee engagement in a culture of feedback
Employee engagement and productivity are among the major issues managers and HR teams are concerned about since they're directly connected to the company's prosperity and development. Although they are difficult to measure, today you can rely on a performance management system to do this. 
Observing and improving productivity is becoming more and more important in big and small businesses equally.  Feedback is one of the aspects that can help a lot here. It's closely connected to encouraging mutual improvement and growth. Here are some ways in which a healthy and transparent feedback culture impacts employee engagement.
It fosters a culture of honesty and transparency
A solid and substantial company culture is of utmost importance for the long-term success of the company. The better your employees work together, the more productivity takes place.
So, making them observe their work and give each other regular feedback, gets them used to openly talking about issues and solving them on the go. Regular and unscheduled feedback is key here because there's no use in talking about something that might've gone wrong six months ago. 
This also leaves the door wide open for people not to be afraid to 'ask for help' when needed. 
It boosts productivity 
Once people know that somebody is about to give them feedback they are automatically  more involved and focused. It encourages effort and action. 
When it's positive and it acknowledges results, feedback makes people feel seen and valued. Productivity is the natural consequence of this. 
It nurtures an employee-oriented company
Being able to use their voice makes people feel important. It gives them the sense that it's not only about the payment they get but also about the impact they make. 
Feedback should also be given to CEOs and managers. A well-established feedback culture should provide a safe environment for this. A good manager would want to serve his/her people and make them thrive, so he/she would appreciate their feedback. By giving employees the opportunity to state their ideas for improvement you engage them more in the work process.
How to introduce feedback culture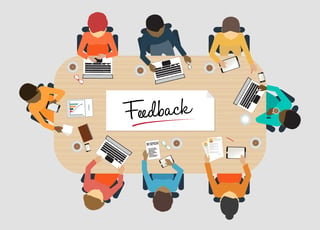 Introducing feedback to your everyday work environment and as a regularly functioning tool can have many advantages. But in order for this to happen it needs to be done correctly. 
There should be a collective understanding that giving and receiving feedback is 
beneficial for everyone

is

not seen as criticism

but rather as coaching towards better performance

is

an opportunity to improve

and encourage each other into achieving goals
In order to do this there needs to be a well-established and openly-known list of guidelines which will ensure that feedback comes from a safe space, a place of care and is done with the purpose of improvement in mind. 
Here are aspects that need to be included in this guideline:
Common phrases that are previously established and accepted are a safe spot for giving and receiving feedback. In many cases, people who give feedback don't know where to start, or how to phrase something. So common language eases the communication process. 
Make sure feedback doesn't only go top-down
It's an outdated approach where only the management is allowed to give feedback to their employees. In order to be successful, feedback must apply to everyone in the company. From the newcomer who came into the company three days ago to the CEO, nobody is exempt. 
Train your employees how to give feedback
Not an easy task, but using the common language can help a lot. It's not only important that we detect a problem, the whole philosophy of good feedback culture lies in HOW we communicate that.
When giving and receiving feedback it's important to focus on three aspects:
What's

positive

(meaning what's being done great)

What's

negative

(where do we get stuck)

How can we

improve

(how can we get better)
In this way the conversation ends with a productive note, giving us a plan on how to proceed. 
Teach your employees how to receive feedback
It's not an easy thing to give quality feedback for sure. But receiving it is even more challenging. It's because it means we need to be open to hearing something we might not like and react to it gracefully and without our ego getting in the way. So it's important to talk to your employees about this and coach them on approaching it. They need to be able to 
hear what's being said

process it

accept it

ask questions to get more informed 

be ready to turn the situation around and change. 
Regardless of our status in the company, there's always space for improvement in the aspect of how we receive feedback and whether we get something out of it.
Feeling ready to feed your employees some feedback
We hope that all the aspects we've put together above and the tips for applying them will get you going in the process of implementing a feedback culture in your company. You're now ready to start creating a feedback-friendly environment and seeing the positive outcomes on the go. 
Iskra Stojanovska has been an English teacher for more than 13 years now. She is also a freelance translator, interpreter, and university professor for both. She's currently looking for a career change and other ways in which she can make use of her knowledge of English. Content writing is a definite choice.